GoShip.com can eliminate the worry out of establishing logistics for your small business with shipping services that can move your company's goods safely and efficiently. With GoShip.com in your corner, you'll never have to worry about loading an entire truck to fill your customers' orders. We can be your complete shipping system solution, handling every aspect of your logistics including returns and exchanges.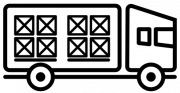 GoShip.com makes truckload shipping simple through our self-service platform, wide network of freight carriers, and instant freight quote technology. You can rely on GoShip.com as an innovative truckload freight solution to take your shipping process to the next level.

Big and bulky items present a challenge because they are too cumbersome to ship through most carriers but often aren't enough to fill an entire truckload. GoShip.com makes it possible to ship these items without paying for space in a truck you're not using. We'll help you find the right carrier options and price points that fit your shipping needs.