At GoShip, we prioritize the safety of your cargo during transportation. Therefore, we have developed the carrier reliability score to make you confident about your carrier choice. You can pick a moving service according to your budget and shipping security concerns.
What is the carrier reliability score?
We believe that your carrier choices don't have to rely exclusively on the price of services. Trusting a carrier with your cargo can be challenging, especially if you're new to the logistics industry. Knowing that you strive to find a responsible shipping partner, we suggest using our carrier reliability score.
The reliability score represents the percentage metrics of the carrier's trustworthiness. Every index is based on the number of successful and failed loads arranged through GoShip's digital platform. The higher the number of completed shipments and satisfied clients, the better the reliability score.
The carrier company's many ineffective deliveries inevitably affect its average rate and reliability. GoShip can eventually eliminate companies with repetitive violations and degrading scores.
How does GoShip calculate the reliability score?
GoShip has generated a unique system of carriers' performance metrics to ensure shipping safety for our customers. The reliability scoring algorithm calculated the number of canceled loads and cases of late load pickups across the general volume of shipments hauled with GoShip.
The system continually measures carriers' performance rates on a trailing twelve-month basis. Thus, our clients constantly get updated information on various moving companies.
Benefits of using reliability score
GoShip's scoring tool can significantly improve your supply chain strategy. A few key benefits of the reliability score will convince you to use it in your shipping operations.
Working with certified carriers
Carrier reliability score implies working with certified movers who have established their market reputation. When booking a shipment with GoShip, you don't have to worry about the carrier's skills – you can check them in a few clicks. Even though you might have heard of an excellent service used by a familiar business owner, you may verify this information on our website.
Hauling with certified carriers reduces the risk of shipment cancellation or cargo damage. Since getting certified entails satisfying many safety requirements, you can be sure the carrier knows to handle the freight, and their capacity suits your needs. No matter how expensive your items are, we aim to deliver them safe and sound.
You can detect trustworthy carriers to cooperate later by checking reliability metrics. Thus, you'll create a network of shipping partners in the long run. You'll clearly understand which transporter serves you best and whether you want to address them again.
Simultaneously, you'll be able to form your carrier criteria and highlight things you'd like to avoid in future shipments. Try to assess the carrier's ability to maintain its reliability status with active communication. 
Deeper logistics insights
The more active you engage in supply chain and logistics, the more advanced your knowledge should get. Tools like reliability scoring can help you analyze the market situation from several perspectives. You'll see why transportation companies increase or reduce their rates and how much their performance level contributes to it.
The variety of available metrics enables our customers to get a deeper logistics insight into the internal industry organization. Moreover, reliability scoring systems can drive healthy conversations on the carriers' performance shifts and possible improvements. For instance, the moving company representatives may contact GoShip if there have been any changes to their reliability potential.
Cost-effective shipping
Sometimes, shippers rush to book deliveries at attractive rates or special offers. Although carrier companies can provide discounts for their services, low price doesn't guarantee high-quality performance. Dismissing the carrier's ranking can result in freight damage and numerous returns. On the other hand, concentrating on reliability alone can lead to increased expenses.
Still, you don't have to exceed your logistics budget. For that reason, GoShip has implemented the carrier reliability score that allows you to see the compliance between the carrier's professionalism and pricing. So, you'll be able to pick the moving company that meets your pricing and safety requirements.
How to see the carrier reliability score?
Going through the quoting process with GoShip lets you see the carrier reliability score. Once you fill in the shipment information, such as transportation mode, locations, dates, etc., you can view carrier ratings. On the right of your order summary, you'll see the list of moving companies along with their rates and reliability percentages. Depending on your inquiry, you can filter the list by price or reliability score.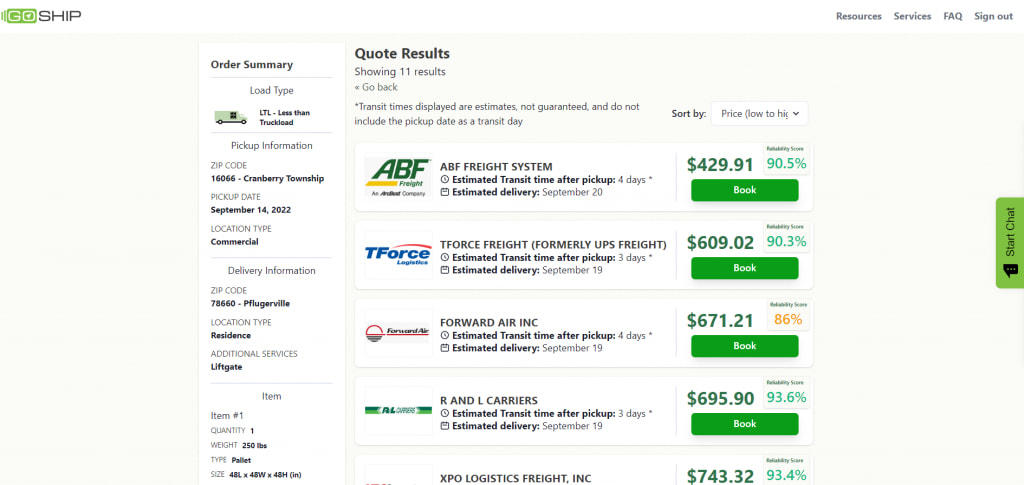 Reliable shipping with GoShip
You can easily book an LTL or FTL shipment on our website, thus proceeding to the carrier reliability scoring. GoShip keeps working on improvements to ensure an excellent logistics experience for our customers. Visit our website and get a free quote from a reliable carrier today!