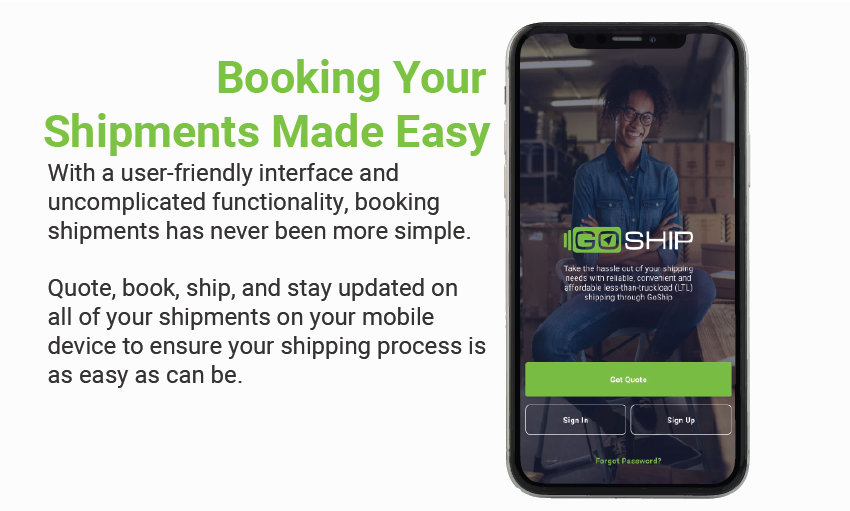 We value your time and understand that your main focus is your business. Booking and managing shipments should be quick and easy. That's why GoShip.com has developed a free, convenient mobile app so you can find and book shipments in a matter of a few clicks.
If you are an individual shipper or a small business owner, you realize that the right shipping tool is crucial to your business because shipping is a critical part of customer experience. According to stats, 23% of shoppers drop their shopping carts because of the shipping issues. Shipping apps better connect shippers with customers and carriers, allowing a more smooth and integrated freight shipping process.
Everything you need to manage your shipments is at the palm of your hands. Download the GoShip app today to get started!
GoShip App Features:
Easily book both LTL and truckload shipments
Access to rates from thousands of freight carriers
Free, no-obligation freight quotes
24/7 shipment tracking when you login
Manage all your shipments in one place
Save past shipment data
Real-time rate updates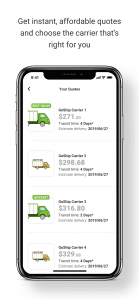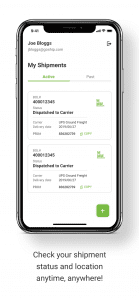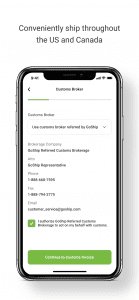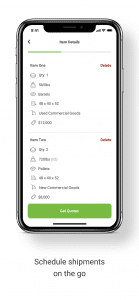 What are the benefits of using the GoShip Shipping App?
Save your time
The core advantage of getting a shipping app is its speed and ability to manage everything when you need it. Having the entire functionality of a good software, you can book, modify, monitor, and update all the processes within a few clicks and not rely on talking to a freight broker. Apps also give you access to real-time data, which lets you immediately see a delay or any other disruption that may arise. Some shipping apps also provide data you can save or store for analytics purposes. With automation and convenience, an app provides, you save tons of time on paperwork and unnecessary communication.
Reasonable and visible pricing
When using the GoShip shipping app, you can compare freight quotes from different carriers in real-time instead of talking to several freight brokers and waiting for updates. All you need to do is enter accurate information about your shipment and destination to see available carriers to move the shipment. Once you find the price that fits your budget, you just proceed to book or clarify some additional shipping details directly with the carrier.
Shipment management
Thanks to data storage, you can easily use all the historical information to analyze and enhance operational performance on GoShip's app. You can identify supply chain gaps or inconsistencies, and make adjustments to optimize the processes. Our shipping app lets you review shipments, plan and monitor them, as well as forecast potential gaps. Also, you get reports and updates on your shipments, which reduces manual operations even more.
Easy-to-use interface
The GoShip shipping app is made to simplify a shipper's life. Consequently, the app is easy-to-use, and has all the functionality you need: easily booking both LTL and truckload shipments, access to rates from thousands of freight carriers, 24/7 shipment tracking, save past shipment data, and real-time rate updates.